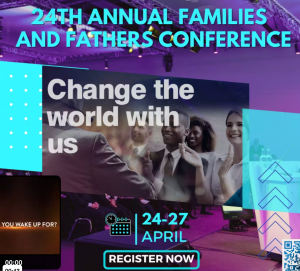 IGT Connector Dr. Charles W. Woodard is speaking to the theme of BE THE DIFFERENCE at the 24th Annual Families and Fathers Conference in Los Angeles on April 23. His presentation, How Fathers Can Be What They Expect to See, is a workshop for empowering fathers to be "Gentle Teachers;" positive role models from whom their children can learn.
Dr. Woodard is a forensic examiner, mentor, and certified Gentle Teaching teacher whose work experience includes the role of Director of the Mentally Retarded Offenders Program, supporting clients with special needs, at Midlands Center in Columbia, SC., and serving as their Chief Psychologist/Director of Psychological Services.
Today he credits his educational training, applied and practiced throughout his work and life experiences, for giving him the knowledge, preparation, and inspiration for establishing his organization, Seed Consultation Services, LLC  for the purpose of sowing seeds of empowerment, knowledge and success in others. Dr. Woodard is a dynamic storyteller/speaker for groups and organizations worldwide. Contact Here,
He is the author of Self-Talk: Sign of Sanity, Insanity, or the Key to Self-Empowerment. The book takes a realistic look at how personal and individual feelings are formed, and illustrates how monitoring and changing one's "self-talk" empower one with the keys to self-management.